Community Gardens
Feeding neighbors while connecting with new friends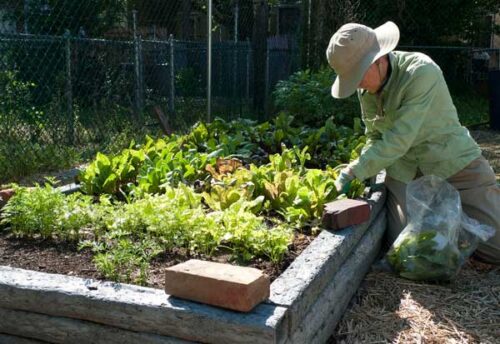 A community garden is simply a plot of land gardened by a group of people. Utilizing either a public or private space, these gardens grow fruits, vegetables, flowers and/or other plants and trees. They can be one garden maintained by many or broken up into plots for individuals to use.  They can also charge dues or 'rent' for the plots, or they could be sponsored and offer free land for the community to garden. The only real requirement to be a community garden is that the members of the community garden and tend the land. 
The first community garden in the U.S. dates back to the 18th century near now Winston-Salem, North Carolina, though there is evidence Native Americans grew food communally for many, many years before settlers arrived. The North Carolina garden is still in operation in Historic Bethabara Park and can be toured. 
The first urban community gardening in vacant lots appeared in Detroit in the 1890s during an economic recession.  Known as "Pingree's Potato Patch" (named after the mayor who created the program), these gardens gave work to many unemployed and fed nearly 1000 families. They became so successful that other cities from Boston to San Francisco followed suit.  As the gardens eventually faded in popularity, school gardens began to become more popular.  Today, there are more than 550 community gardens in New York City alone. 
If you'd like to find a community garden in your area, search the American Gardening Association's garden map.
Types of Community Gardens
There are various types of community gardens, including:
Charity Garden.  A charity garden is often run by a church or other civic group and is designed so that the food grown will be given to a local food pantry, soup kitchen or donated to those in need. 
Cooperative Garden.  With cooperative gardens, the entire space is planted, managed and tended to by the garden members.  The food grown is shared with members and sometimes with the broader neighborhood. 
Entrepreneurial Gardens.  These types of gardens not only grow food, they are an opportunity for individuals young and old to learn business principles by growing and selling the produce for local markets and restaurants.  They also provide job training skills.  
Neighborhood, Communal or Plot Garden.  These gardens are the most common type of community garden. The land is split up into equal-sized plots and rented to residents of the area at a nominal price. The gardeners keep what they grow.  Some gardens also include a communal space where food grown is shared with all members and sometimes the broader community.
Residential Gardens.  These gardens are found in apartment complexes, assisted living and affordable housing complexes.  They are maintained by residents living in the complex.
Teaching or Demonstration Garden.  These types of gardens are used for either educational or recreational purposes.  They often offer workshops on gardening and host events at the garden. 
Therapeutic Gardens. These types of gardens tend to be found in places such as hospitals, nursing homes/assisted living facilities, botanical gardens, and outpatient treatment centers.  These might be gardens that offer a peaceful respite and are designed for people with physical or other limitations.
Youth or School Gardens. Food is grown in gardens on school property and served in the cafeteria and/or shared with students and oftentimes their families.  These types of gardens also serve as outdoor learning laboratories.
Create Your Own Community Garden
If there isn't a garden near you that suits your needs, start your own!  To help make it easier, Community Gardens as Appleseeds, will help you for free.  Simply email or write to receive a $50 Seeds of Encouragement stipend to purchase, tools, materials, seeds, or other things needed to create your garden.     
Community Gardens As Appleseeds
PO Box 321083
Los Gatos, California  95032
agroecology@aol.com 
(Please note:  We're not sure if this program is still active.)
Community Garden Examples:
According to the Trust for Public Land, there were more than 29,000 community garden plots in city parks in the 100 largest U.S. cities in 2018 – a 22% increase from the previous year. Add to that gardens in vacant lots or areas, on private property, and at businesses and the number in staggering.  Just a couple examples of community gardens include: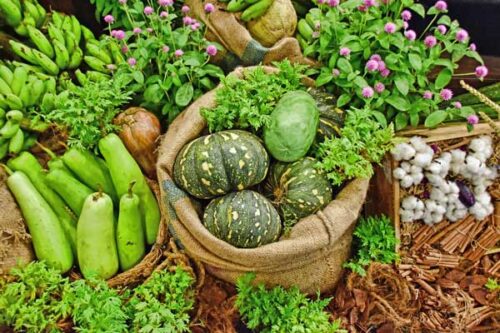 New Freedom Park.  In 2012, the residents of Grace Apartments established a community garden across the street from their building in a vacant lot.  This low-income housing development in Denver, Colorado, is home to 53 families, many recent immigrants.  The garden plots are combined with a soccer field, shaded seating and play spaces and bring together many people both young and old who might not share the same language, but who communicate through the land and their play.  You can watch a short video about the park.
Collective Roots Gardening Program, East Palo Alto, CA.  Collective Roots goes a step further by not only offering garden plots for free to community members, they also host free workshops to teach the community how to garden organically and loan gardening tools and materials to residents in the area.  
Community Garden Maps