What is Public Planting?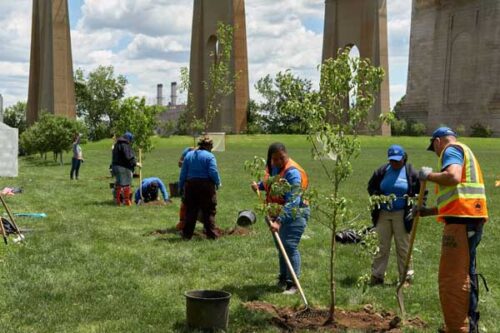 Public planting is simply planting food in public spaces that anyone can harvest for free. Edible plants are grown on sidewalks, in front yards, in public parks, and outside of buildings. Depending on the location, the plants are maintained by neighbors, local nonprofits, city parks departments, and/or nearby businesses.
As people have successfully planted food in public spaces and learned lessons along the way, some have formed organizations for others to join or donate to the work, and many provide free resources for those interested in planting in public spaces in their own communities.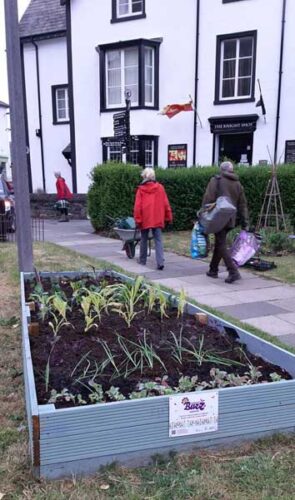 Learn about different forms of public planting and some of the people planting in their communities below!
Types of Public Planting
Public Fruit Trees
Guerilla Gardening
Seed Bombs
Community Gardens
Well-Beeing Gardens
Food Forests
Public Fruit Trees
Yes, they're exactly what they sound like! Public fruit trees (PFTs) are fruit trees that exist on public land that can be picked and harvested by anyone who wishes. You've likely walked by them, you may have even seen them bearing fruit, but you may not have realized that their fruit was yours for the taking. Now, you may be thinking, what are the chances that I even run into one again? Well, it may be higher than you realize. There are lots of groups who map those that already exist that can be found online and even groups who make it a point to plant them throughout their communities.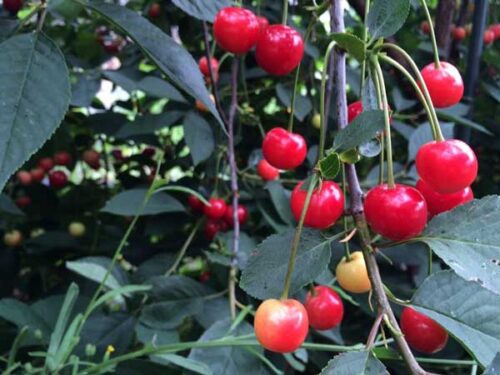 PFTs are the epitome of Plant Eat Share. They provide completely free, no-strings-attached fruit to anyone who might need or want it. Many of them exist completely on their own without the need for any human intervention and bear fruit year after year. Look out for some in your area, and hopefully, many more will be popping up as groups continue to plant them.
Guides for Planting a Public Fruit Tree:
Maps of Public Fruit Trees: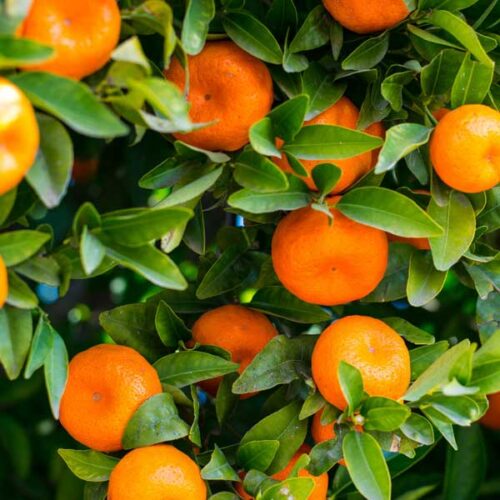 Videos of Public Fruit Trees:
Organizations who plant Public Fruit Trees:
Fruit Tree Planting Foundation – An international organization, this group works toward planting fruit trees around the world. They distribute trees, education and training to communities who will benefit and promote the use of organic growing standards.
Guerilla Gardening
Guerilla gardening IS as cool as it sounds. It is a movement of people who garden in areas where they're not legally allowed, such as on vacant public lots, private property or street medians. The point of the movement is simply to beautify or make useful (with food) areas that have been abandoned and forgotten. In lots where food is grown, they're actually similar to community gardens because those who plant and tend the garden mostly eat the food from the garden. Guerilla gardening can be undertaken by one vigilante gardener working alone or groups of people.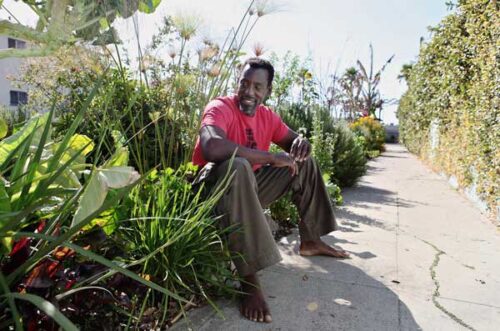 Guerilla gardening coincides with Plant Eat Share as those who participate have similar values of community, food access, and sharing. Movement leaders, like "Gangsta Gardener" Ron Finley out of Los Angeles, California, believe that everyone should have access to fresh and healthy produce. Guerilla gardening gives its produce back to its gardeners, as well as those who pick something as they pass by!
Guides for Guerilla Gardening:
Inspiring Guerilla Gardeners:
Ron Finley – Ron Finley is the OG of guerilla gardening. He is known as the "gangsta gardener" for growing edible gardens in front yards and parkways throughout Los Angeles that were out of compliance with city codes. He did not back down and started a movement with his group at the time called LA Green Grounds. In his 2013 TED Talk, he describes how he was issued a citation by the city that would turn into a warrant, so a member of his group started an online petition, and they also received support from their councilmember. In 2013, the city council voted to stop enforcing the law that prevented the planting of edible gardens; and in 2015, a new ordinance went into effect to allow residents to garden on certain city property without a permit. Now, Ron represents guerilla gardening in a big way and runs the Ron Finley Project in South Central LA that serves to rejuvenate communities through gardening, knowledge, and togetherness.
Incredible Edible UK – Beginning with a few friends guerilla gardening in the town of Todmorden in 2008, Incredible Edible has grown into a network of groups planting food across the United Kingdom and the world. Though they began by planting food without permission, they now have guides for working with local business and working with your local council that offer suggestions on how to create partnerships.
Green Guerillas – In the early 1970s in New York City, the Green Guerillas placed flower boxes in the windows of abandoned buildings, threw seeds into vacant lots, and planted sunflower seeds in center meridians of busy streets. In 1973, they started what would become the first community garden in NYC, now called the Liz Christy Community Garden.
Videos about Guerilla Gardening:
Seed Bombs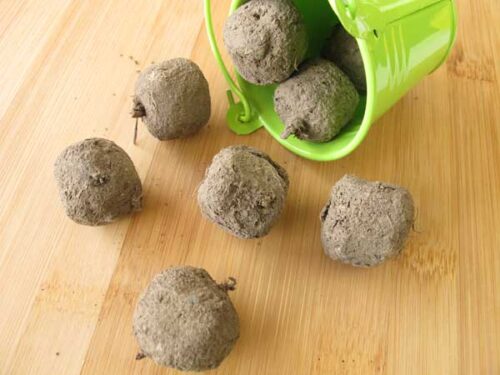 One way to guerrilla garden is by using seed bombs. Seed bombs are mixtures of soil, clay, and seeds that you can either stealthily place or throw into empty or neglected areas around your community to start urban and edible gardens. Seed bombs can also be used in community gardens and other spaces, and they can be given as gifts! You can learn how to make your own (or purchase them) using the links below:
Community gardens can be public or private. Those who choose to allow anyone to harvest food and/or bring the food they harvest to food pantries to be given away for free can be considered a type of public planting. You can visit our community garden page for more information about this type of growing.
Well Bee-ing Gardens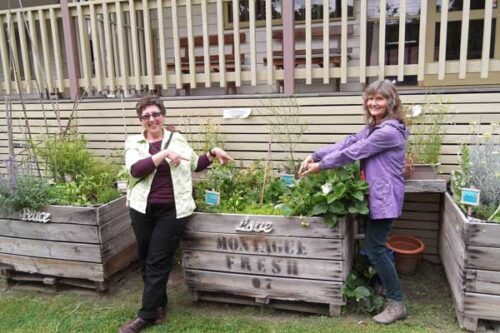 Well bee-ing gardens contain plants and herbs that are bee-friendly and that help support our physical, mental, and social wellbeing. In Kentish Town in Greater London, this group is designing and planting well-beeing gardens at health centers. They even created a guide of the plants on their Trail of Well-Beeing Garden at Kentish Town Health Centre.
Like community gardens, food forests can also be public or private – those that allow anyone to harvest the food are considered a type of public planting. Some people have created food forests in their front yards to share with their neighbors, while others have created them in public parks or in community gardens.
According to Project Food Forest, a food forest (also called a forest garden) is "a diverse planting of edible plants that attempts to mimic the ecosystems and patterns found in nature. Food forests are three dimensional designs, with life extending in all directions – up, down, and out." Food forests aim to grow food in a way that mimics the ecosystems found in nature so that over time, they require less and less human management to thrive.
You can find out more about food forests on our Food Forest page.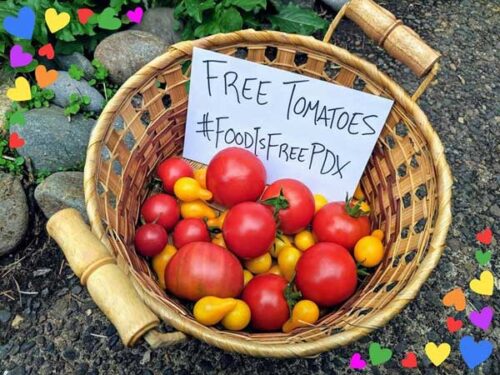 Are you motivated to do some public planting? Check out the guides and organizations above for tips! For first time gardeners, anyone not able to access seeds, and people who grow food to share with others who have low access to healthy home-grown food, contact the Free Seed Project to get some free seeds (or at least get on their waiting list) and try your hand at growing food for yourself and your neighbors. They even have a gardening guide for all beginner gardeners to help you start growing food with confidence!